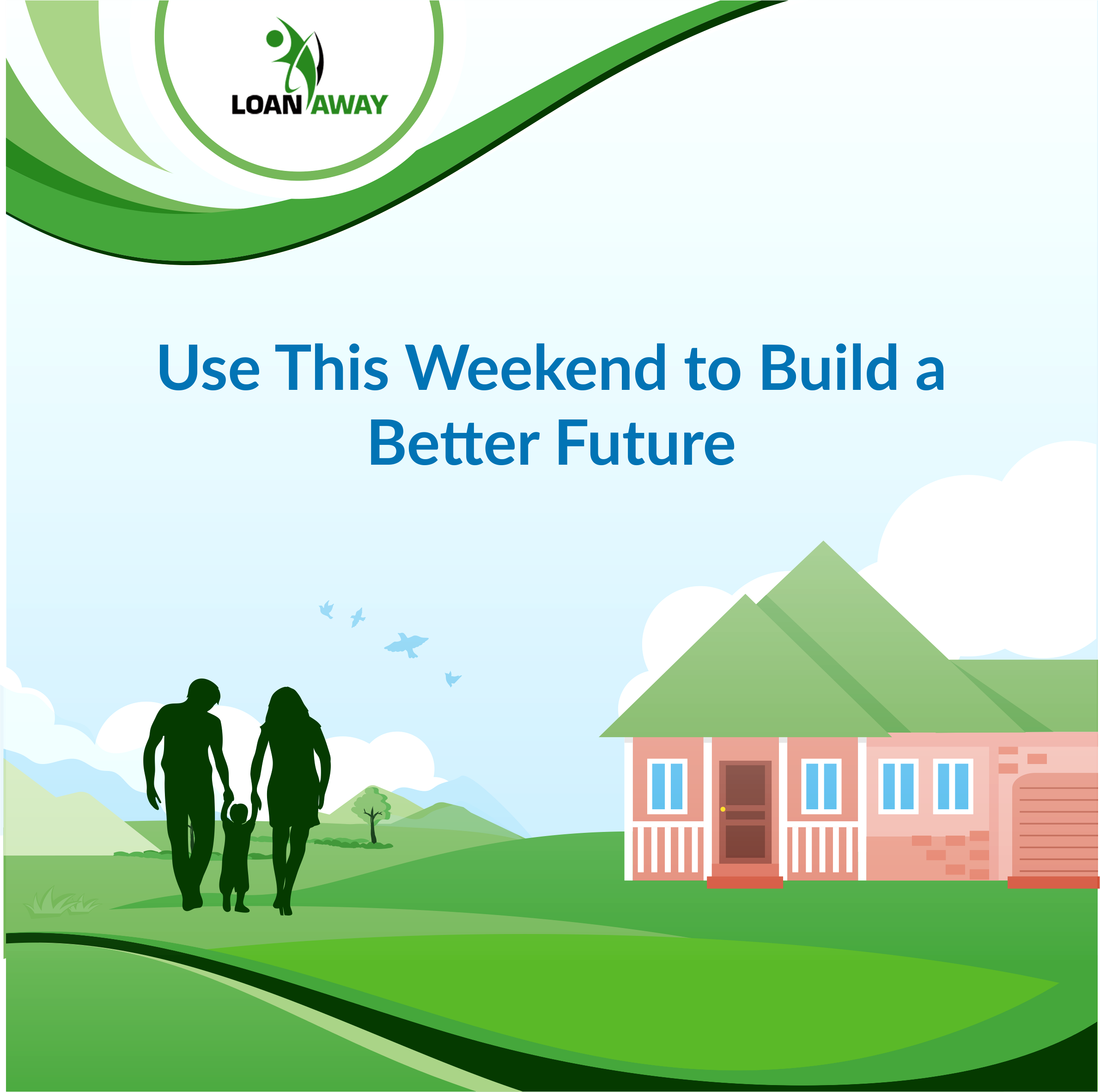 For most of us in the Monday to Friday work routine, the weekend is the time to sleep in, then have a late breakfast with your feet up in front of the TV.
You've earned it.
But then again, right now is the perfect time to spare a thought about how you could use this weekend to increase your savings, maybe augment your wealth and so build yourself a better financial future.
Use this weekend to improve your financial situation.
Bad Credit Loans. Get Now!
Loan Away Company is proud to serve many Canadians in various locations: Ontario (Toronto, Brampton, North York, Vaughn, London, Barrie etc.), British Columbia (Nanaimo, Vancouver, Burnaby, Mission, etc.), Newfoundland (St. John's, Bonavista, Placentia, etc.), Alberta (Edmonton, Calgary, Red Deer, Stony Plain, etc.)
New places that are coming soon: Quebec (Montreal, Westmount, Kirkland, etc.), New Brunswick (Oromocto, Sackville, Dieppe, Riverview, etc.), Saskatchewan (Regina, Saskatoon, Winkler, Neepawa, etc.), Nova Scotia (Halifax, New Glasgow, etc.)
Reflect On Your Current Job
Analyze how you're faring in your job at the moment. Are your bosses happy with you? If they entrust you with more and more tasks and responsibilities, they surely see you as an asset to the company. If they don't, you need to concentrate on improving your current performance
Ask yourself how you can add more value to the company. Make it a habit to do more than what's expected of you. Make that part of your character. It'll help you climb up in your career wherever you are.
Try To Get A Raise Or Find An Extra Income
Analyze your potential for growth both within the company as well as elsewhere in the same city or province. Once you make sure that you're consistently delivering over and above the requirements of your job, you can try to get a raise.
Consider freelance projects during the weekend or find ways to earn extra money. Maybe some restaurants, bars, eateries or retail stores in your neighborhood are looking for some extra help over the weekend. Don't feel that it's something below your status in life. Like billionaire Bill Gates Says, "Flipping burgers is not beneath your dignity. Your Grandparents had a different word for burger flipping – they called it opportunity."
Improve Your Skills
Perhaps, you may need to acquire more skills to accomplish career growth. Find out the advancements in your industry and find out how you can update your skills to match up. Research and plan it. Remember, education and advanced skills training are investments. Do not be callous about it. Enquire at your local library for books that will give you more information and knowledge.
Today, there are tons of courses available online to update your skills. Many of them are free. Check out Coursera, Udacity, Udemy where you can find free online courses in Language Learning, Personal Development, Business, Computer Science, Social Sciences and more. The University of Toronto participates in Coursera programs.
Apply For a Better Job
Begin your search for a better job by updating your resume. Make sure it's the most current. Look up samples of Resumes online and see if yours matches up. Register with online employment hubs like Indeed, Monster, and Workopolis. Attend free networking events to learn more about the job market and your industry in particular. Spread the word out to friends and acquaintances that you're looking for a better job.
Be active on LinkedIn. It's the site where professionals connect. Follow those who have jobs that you aspire for. That'll, in turn, help you connect with their network and even more professionals in the industry. The moment an opening shows up, you can see it immediately and apply for the same.
Cash Money Loans
Our loans' services include many borrowing options. We offer affordable rates, easy terms, and flexible payment schedules:
Unfortunately, we do not offer these online services: auto loans, apple loans, car loans, student loans, and motorcycle loans.
Set a Spending Limit
List out all your expenses into primary and secondary. Here's where you need to set a spending limit. Naturally, expenses like rent, food, utilities, and fuel/transportation take precedence over others. Then will come secondary expenses like movie tickets or that new pair of shoes you've been eyeing. Prioritizing is essential to save and build your wealth. If you can forego something, you must.
Pay Your Bills
Make it a habit to pay all your rent, utility, phone, internet and other bills within the due date so you don't attract a late fee. Even a $3 late fee is something you shouldn't let slip through your fingers. Keep in mind that credit card companies charge you an interest on your outstanding balance for the month, which in some cases could work out to over 20%. Simultaneously, you ruin your credit pretty badly, which can take years to repair. Can you seriously afford that?
Look For Good Deals
Keep a lookout for grocery store specials offering deals like buy one get the second at 50% off, cash discounts or rebates and price matches. Compare prices online. When you shop online you can save time and money. Check out flea markets and garage sales. You never know the treasures you're likely to find at these places at ridiculously low prices.
Plan Your Errands
The weekend is the time you've set aside for all your errands. Plan your bank visit, grocery purchases, payment of phone or utility bills, library visit etc in such a way that you complete all your tasks in one trip.
Wash Your Car By Yourself
An automated car wash costs between $9 and $15. It's money you could well save if you wash the car by yourself over the weekend. It may seem like a small amount. But remember, it's the small drops that make the ocean.
Plan Your Laundry
The washing machine and dryer consume a sizeable measure of electricity and water. By planning your family's laundry, you could save big on electricity and water costs.
Do It Yourself
Roll up your sleeves and try to fix yourself whatever needs mending at home. A wobbly chair, a leaky faucet, a fused lightbulb can all be fixed by yourself. If you do not know how it's done, there are many YouTube videos that show you how. If you hire an electrician, plumber or handyman to do the job, it'd certainly entail a huge cost.
Cook At Home
Eating out can be expensive. An average meal for a family of four could set you back by $60 at a regular restaurant. Even eating at food courts or fast food joints could set you back between $30 to $40. By cooking at home you could save that much. And eat healthy too.
Consolidate Your Debts
If you have small outstanding bills and debts payable to varying sources, they'd all be attracting different interest rates. Your one solid financial move this weekend could be to gather all of them under one loan at a lower interest rate and then pay off all your other debts, once and for all. Learn more about debt consolidation
The steps outlined above are fairly simple. You do not even need to make a big sacrifice to follow these steps. But if practiced regularly, you can certainly build a big saving over time. And subsequently, a better, healthier future. Have a great weekend!
What would you do this weekend to make your future better? Do you have a special plan to save some money? Or earn some extra money? Do your friends have some unique method by which they save a little more than others?