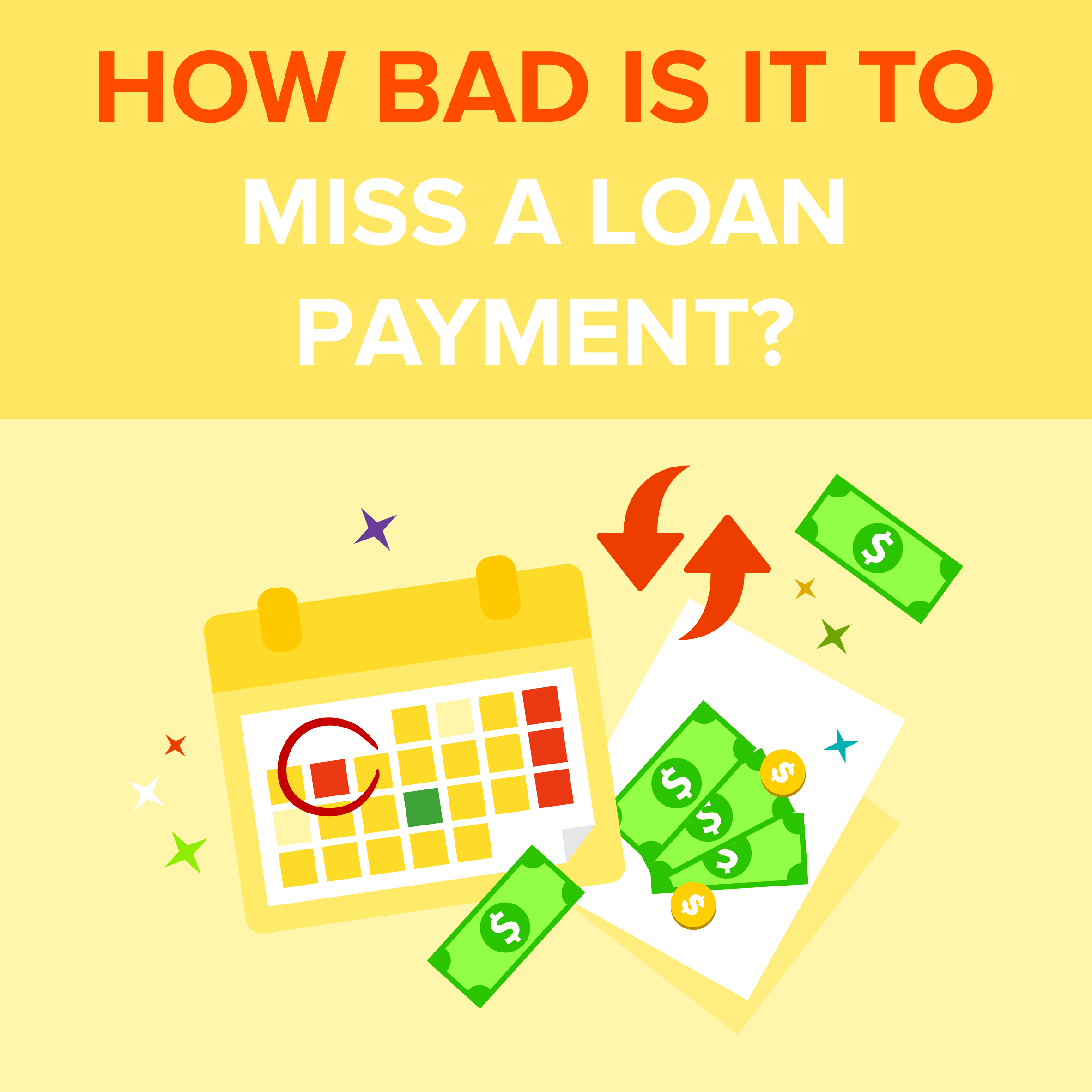 It is very important to take a loan with seriousness, as consequences for missing a payment or being unable to continue making payments altogether can be severe. Various circumstances beyond a person's control can occur, even within a very short time; for instance, losing a job. This is why it is so important to think carefully before borrowing.
"How bad is it to miss a loan payment?" The answer to this question is quite simple. Missing a loan payment is extremely bad as unfortunate life-changing events, which nobody will wish to experience.
Let us have a look at things that could happen if you miss your loan payments
Late Fees
You must pay additional fees once you have missed the due date of a payment. If you are not serious about it, the fees can pile up quickly in a very short time and since you could not afford to make original payments, increasing them with late fees will only make your situation worse.
Poor Credit Score
If you completely skip a month when your loan requires you to make a payment, the consequence of this is that you will be an entire billing cycle past due, a situation that will force your lender to report on you to the credit bureaus. This will have a negative effect, as it will certainly decrease your credit score. More late payments you have lower your credit score will be.
Moreover, you will not be qualified to apply for a new loan and your credit score will be extremely low. Now, think about the interest that would have piled up because of all these late payments. Definitely, it will soon be more than your original payment amount.
Charge-Off
In the event that you fail to contact your lender on missing payments, they will act in a way that will badly affect you. One of the things they will do is they will charge-off your debt. Remember that the charge-off will affect your credit report in future. Other words saying, applying for a future loan, lenders will be unwilling to offer you a loan because they will believe that you will be unable to pay it off. Besides, when a charge-off occurs, it will have a serious implication on your taxes in the end.
Collections on Your Account
The next step a lender can take, having successfully written-off your loan as a loss, is to transfer your debt to a collection agency. This will reflect on your credit report for seven years and will greatly affect your credit score. In additions, you will start dealing with debt collectors who will be persistently calling you to pay off your debt. Their job is to force you to pay them and they will use all available means to get you to pay.

Legal Action
Your lender may opt for a legal action against you to get back his or her money. He/she may sue you for a larger amount than you owe or the court could compel you to pay back the debt in full. Remember that the outcome of the court debt case will again affect your credit report.
It takes time and hard work to deal with bad credit reports, black marks, and late payments on your credit history. Get in touch with your lender and cooperate with him/her to find a way out.